Drive Your Trucks, Forklifts and Logistic Trollies Automatically!
– Indoors & Outdoors
– On Repetitive Cycles
– In Any Environment (Dust, Fog, Rain, Snow)
– Safe & Secure
– Easy to Install & Manage
We have designed AgWay as a framework; so you can decide how to integrate it to your trucks, forklifts or any type of vehicle. 
You can learn how to do it yourself, or ask one of our representatives around the world, to integrate it for you. Just contact us for more information.
In addition to driving, AgWay manages traffics between your vehicles, defines tasks for them, gives operators access to monitor them and finally exchanges logistic data to the plant database.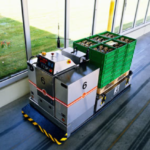 Obtain Accurate Position of
– Human Driven Vehicles
– Forklifts
– Box Pallets
– Robot End-Effectors
– and many other Objects…
Once AgWay transmitters installed in the plant, real-time position is available for all receiver modules in the environment.
Just attach an AgWay Receiver to any moving object, and position record for it will be shown on AgWay server real-time. You can store or share this position to data sources of your plant for further analysis. The receivers are small modules supplied by battery.
– Live Monitoring
– Data Sharing & Storage
– Alarm Notification
– Emergency Remote Control
– History Export for Analysis
AgWay server, installed in control-room, enables operators to monitor material flow on a graphical interface and take quick actions in case of emergency.
Connectivity to variety types of logistic data sources, enables managers to collect statistical data about material handling, then optimizing the material flow.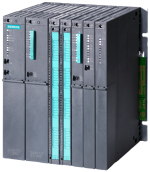 – Standard Vehicles Interfaces/Controllers
– Assembly Line Interfaces
– Warehouse Interfaces
– Automatic Gates/Doors/Traffic Lamps
– Standard IO Devices in Industries
AgWay introduces Task Table, a programming interface where you can freely exchange data between logistic devices. 
AgWay uses a Learning Method to drive vehicles,
– Install AgWay-Client-Computer on your vehicle plus Radio-References in the plant (We can do it for you as well). 
– Switch your vehicle to Learn-Mode,  and manually drive it from point A to B.  
– Repeat in the Learn-Mode for point B to C, C to D etc.
– Switch back your vehicle to Auto-Mode, AgWay-Client-Computer gets connected to AgWay-Server-Computer and receives missions from it.  
– The fun part! Watch your vehicle automatically transferring the pallets from one point to another!